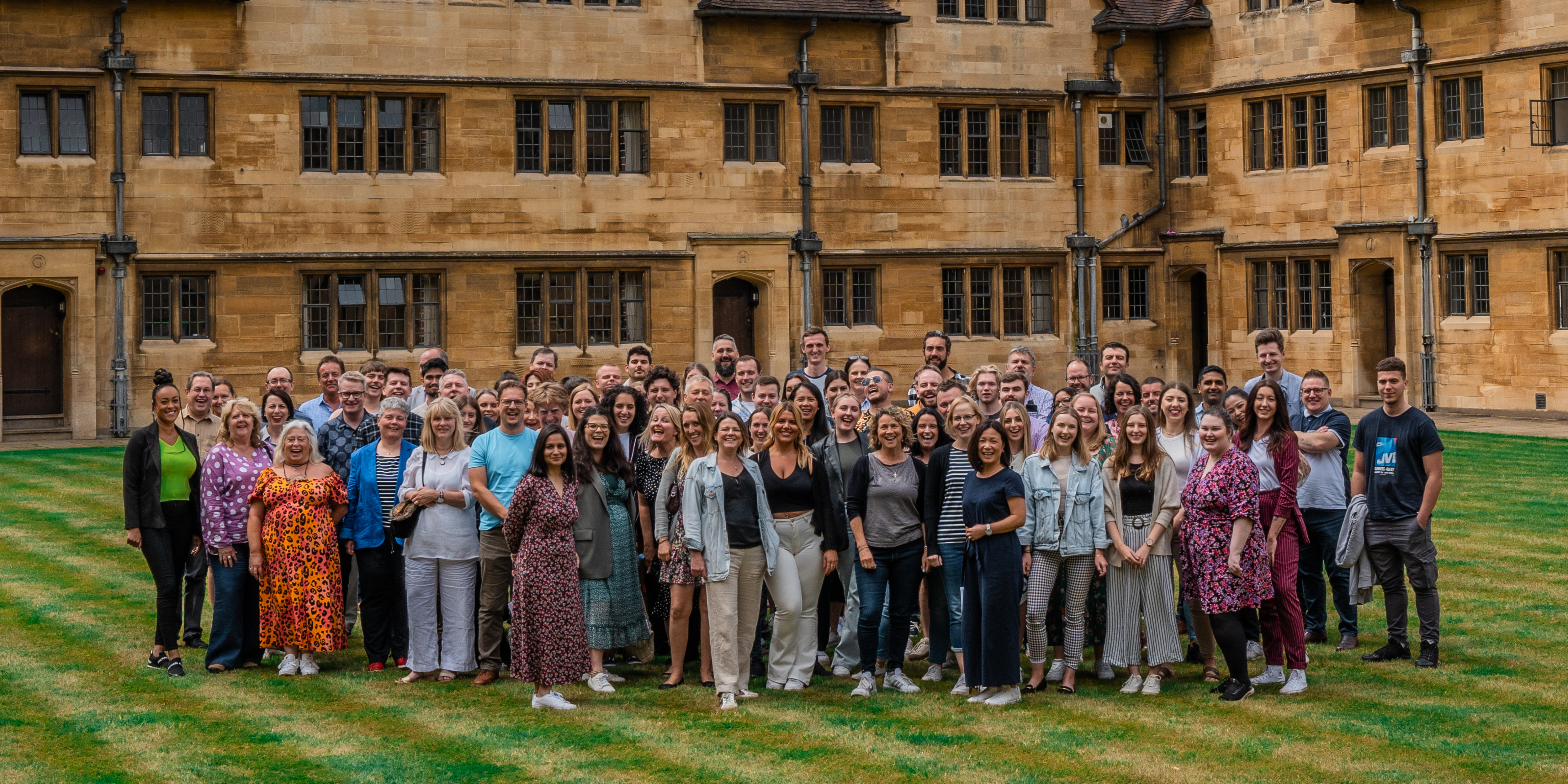 Join our team
Everyone at AMI is empowered to grow with the business.
We take career progression seriously — and ensure every employee has the right training and support to achieve their goals. We take pride in our sociable and inclusive culture. Responsibility, dedication, teamwork and innovation underpin everything we do.
If you can offer us…

Enthusiasm and positivity
A determination to grow
A great attitude

We can offer you…

A sociable and supportive team
Exciting, pioneering clients
A chance to grow your career
Life at AMI

We're a friendly bunch and have a passionate social committee who get everyone together on a regular basis. There are also annual events and parties, away days, and birthday perks. Enjoy:

Monthly events such as book club, pub quizzes, wine tasting, and theatre trips
The annual summer company away day and New Year's party
Team lunches to celebrate individual and team successes
A day off on your birthday
Free tea, coffee, and fruit to keep you going throughout the day
Employee pension

Plan for the future with our employee pension. We offer a 'salary sacrifice' pension scheme to help make your contributions more tax efficient.

Cycle to work scheme

Boost your fitness, help the environment and cut commuting costs. Purchase a new bike and benefit from income tax and NI savings.

Life assurance

We hope you'll never need it, but our life assurance offers financial security for you and your loved ones if something happens.

Confidential support 24/7

Get expert, confidential support whenever you need it. This covers emotional concerns, mental health issues, as well as financial and legal matters.

Healthcare

Claim back a wide range of everyday healthcare costs including sports massage, flu vaccinations, glasses and dental treatment.

Flexible working

We offer a variety of flexible working arrangements to fit in with individual lifestyles.

Family support

Benefit from enhanced pay for maternity, adoption, and paternity leave.

InDIviduals and
Stronger Together

Our internal groups actively encourage you to be who you are, regardless of background, what you look like, or the tunes in your favourite playlist.
Career development
Our people are important to us. This means we encourage everyone to take advantage of new opportunities to learn and grow. We regularly promote our team members and have great success stories of people who've developed their careers with us.
Harriet White

Joined: March 2018
Current role: Event Sales Manager

I started my career at AMI as a Conference Organiser, I knew I wanted to organise events and travel – and I have, a lot! Since then, the business has helped me grow through various promotions and side steps, they have empowered me to carve out my role. I found my strength lies in building strong customer relationships and since then I have moved over to the Sales team where I am furthering my career. The team I work with are very supportive and enables a friendly environment to work in.

Jenny Amaru


Joined: July 2007
Role: Head of Sales

I started at AMI, fresh out of University. Back then, all I wanted to do was organise events and travel. I had no other expectations. I have always loved the variety of tasks I do on a weekly basis — never get bored. I am grateful for the trust I'm given, the people I work with - and the opportunities and career progression I've been provided.

Matthew Wherlock


Joined: July 2004
Role: Exhibitions Team Manager

I joined AMI in 2004 to work on the database of Injection Moulders in Germany, before moving into consulting and conferences. In 2016 I entered the world of exhibitions, heading off with little more than a 4-page brochure and biro to start selling our launch Expo in Essen. After 2 years of selling, I found my niche in the Operations team. I've worked with some great people from all corners of the world and have been to some amazing places along the way.

Alex Johnson


Joined: November 2017
Role: Data Team Manager

When I joined AMI, I was looking for a role that integrated digital marketing and business development alongside the main aspects of data management. AMI helped me grow within my role by providing plenty of opportunities to learn directly from key stakeholders, while also giving me the tools to implement our system and the way we process our data. What I love about our company is the passion and the fact that employees are genuinely seen as a core asset to the business.

Sarah Phillips


Joined: February 1995
Current role: Marketing Executive, Marketing Intelligence

Over the last 28 years, I've held several positions within AMI, including Administrator, Office Manager and now Senior Marketing Executive. The company has continually inspired me to develop new skills. My colleagues are friendly and super supportive. As Head of the Social Committee, I love to encourage the wider team to build great working relationships, and have fun along the way.
Get in touch
Can't see the job for you? No problem. We'd be delighted to receive speculative enquiries and will be in touch about any suitable roles.
Send your CV and a covering letter, explaining what you could bring to AMI and which area/s of business you're interested in, to careers@amiplastics.com
By submitting your CV you confirm you have read and understood our privacy policy and are consenting to AMI processing your personal details in relation to potential job vacancies. We will not share it with third parties and will keep it on file for 6 months.